Sorry, we couldn't find any results for your search.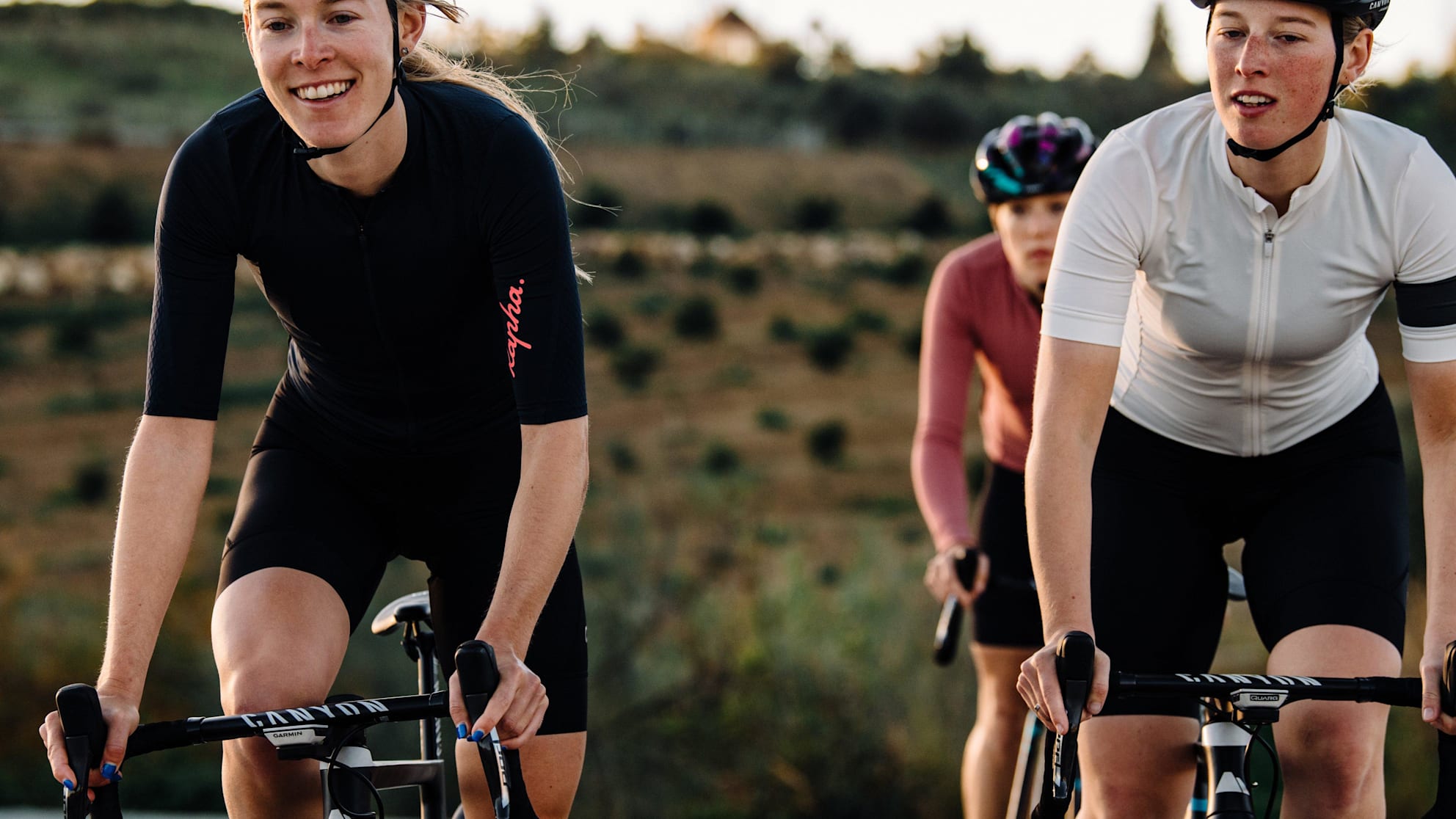 Barnestormers
Hannah and Alice Barnes are sisters in arms, teammates and, since last September, world champions. We checked in with the CANYON//SRAM duo ahead of this weekend's Tour of Yorkshire for their thoughts on a race that takes on extra significance this year…
02 May 2019
May in God's Own Country. The new cricket season has begun but there's another sport dominating the calendar of late. On windswept moors, and through winding dales, a strange silence has descended – even the newborn lambs know 'summat' is up. It's time for the Tour of Yorkshire.

Inaugurated in the wake of the Tour de France's visit to the county in 2014, the controversially named Tour de Yorkshire has gone from strength to strength in the last few years. Huge crowds, tough terrain and equal prize money have earned the event a good name in the peloton, the press and even in the polka-dot-painted pubs along the route.

This year, the race returns for its third edition and offers those who take part a chance to preview the course for this September's World Championships which will finish in the spa town of Harrogate.

Though Hannah and Alice grew up in Oxfordshire in the south of England, both have spent plenty of time racing in Yorkshire and consider this a home race.
First things first, what springs to mind when you think of Yorkshire?
Hannah Barnes: Tea, flags and Yorkshire pudding. Alice will come up with all sorts for this though, she spends more time up there and knows it better than me.
Alice Barnes: I definitely think of the flag too, with the white rose. Stone walls and farmhouses come to mind and then, of course, there are the hills. Steep and surprisingly long, they are what makes riding in Yorkshire so tough.
Can you confirm the locally held belief that the fans are the world's best?
AB: It's true, the support really is amazing, second to none in my book. Everyone gets behind the races even if they're not cycling fans and, being British, I have quite a lot of people cheering for me too. Last year the weather was incredible which was lucky.

HB: The fans are really enthusiastic but they give you space. They don't bombard you. When you race in Belgium, they surround the camper and the moment you step out, they want a photo or an autograph. In Yorkshire, they're just happy to be there. I know when I hear a car horn that it will be a happy beep of support especially if we're out training in the British national kit. You get to know the tone of an angry beep when you ride around Essex but in Yorkshire, I can guarantee that they'll all be supportive.
How is the race regarded in the women's peloton?
HB: The Tour of Yorkshire is great because we race the same distance as the men on the same courses.

AB: Everyone is keen to be in the team for this one. We're recognised here, we race just as hard as the men and people can enjoy the racing knowing that all the athletes are fairly rewarded.
The hotels are great, the food too and, as we've said, the crowds are awesome. This year marks another big step forward as we'll have a Saturday stage too. Racing at the weekend will hopefully mean that even more people can come out and watch.
Alice, you finished third on the first stage last year. Friday's first stage into Bedale looks well suited to you.
AB: That stage into Doncaster last year was my first time leading CANYON//SRAM. I went into the race feeling really strong but in the team meeting I was reluctant to put my hand up because it brings a lot of extra pressure. Alexis Ryan and I went into the day as joint leaders but she came to me mid-race to say that I should go for the sprint.

With my previous team Drops, I felt less pressure as leader because I wasn't taking the chance away from anyone else. On this team, there are always several riders who could win so you have to take your chances.

That said, I will be more up for taking the chance this year because they don't come along very often. Let's see what happens.

En route from Barnsley to Bedale, Friday's first stage will also include one lap of the Harrogate finishing circuit that will decide the next wearer of the rainbow bands in September. With ambitions to make the most of their home advantage, the Barnes' World Championships preparation began months ago.
How well do you know the course for the Worlds?
HB: We rode an almost identical course on the 2017 Tour of Yorkshire and there are some tricky climbs in there.

AB: The main climb on the route [referred to as Trapping Hill or the Côte de Lofthouse, depending on who you ask] is really tough. When we raced it in 2017, I remember there being a headwind over the top. I'd just been distanced and I was trying to hang on.

HB: Lizzie [Deignan] went solo and there was a group of fifteen or so behind her. It all split up on that Lofthouse climb and then chaos ensued.

AB: We rode the course and the Lofthouse climb again on a British Cycling camp last December. There's a sharp left hander on the descent, it was pouring with rain but I railed it around this corner and got a good bit of distance over the others. What we were doing up there in the rain in December, I still don't know!
How important is it to recce a course like that?
AB: I always enjoy a recce. I am quite good at remembering roads and I can then go into the race knowing each and every junction. I guess because our dad is a lorry driver, he drilled into us that remembering roads is useful as you know what's coming up.

It's important to know the roads. I'm too shy to be the road captain now, maybe when I am older and more experienced that'll be something I can turn my hand to.

HB: Being British I feel like I have an advantage as I know how grippy the roads are. In Europe they seem to just roll a bit quicker, in England it just takes it out of you that little bit more. We are prepared for that.
Who will lead the British team in September?
HB: I'd imagine Lizzie, she's really up for it. This is one of the main reasons she has come back into cycling now after having her baby. She is from Yorkshire, has a house in Harrogate and has proven that she has the quality to win the Worlds. If she comes into it confident and in form, there's no reason we would not back her.

AB: At the end of the day, we'll support the strongest rider so if Lizzie is there and riding well, we'll all ride for her and hope that she can deliver a result. Hopefully she's flying, we can all ride for her and she can bring back the jersey.
How do you see the Worlds panning out?
HB: It's hard to know what might happen but everyone racing will turn up in good form. A lot of people hold back as well which makes it unlike any other one day race on the calendar. That's the thing with the Worlds, there are always a lot of people who could win.

I think it will be the bravest, not the strongest who will win. You need to be clever as well, everyone will be tired. When it's Worlds, the size of the teams plays a big role too.

AB: The racing is going to be super tough and the organisation will be incredible, Harrogate will be a hub but you'll get to see the rest of the county too. It should be a model for future hosts of the event to follow.
Souplesse Race Cape
There's always a decent chance of drizzle in the Yorkshire Dales. For racing in wet conditions, both Barnes sisters opt for our Souplesse Rain Cape. Lightweight, breathable and identical to those used by CANYON//SRAM, get yours now.
Buy now
RECOVERY RIDE
For a unique chance to ride with a pro, join Hannah on her recovery ride after the Tour de Yorkshire. She'll be leading a short two hour ride leaving the Pop-up at 10.30am on Sunday, 5th May before returning for coffee and a short Q&A back at the Leeds Pop-Up Clubhouse.