Sorry, we couldn't find any results for your search.
What's Next?
A look ahead to an array of new cycling products coming in 2019.
28 January 2019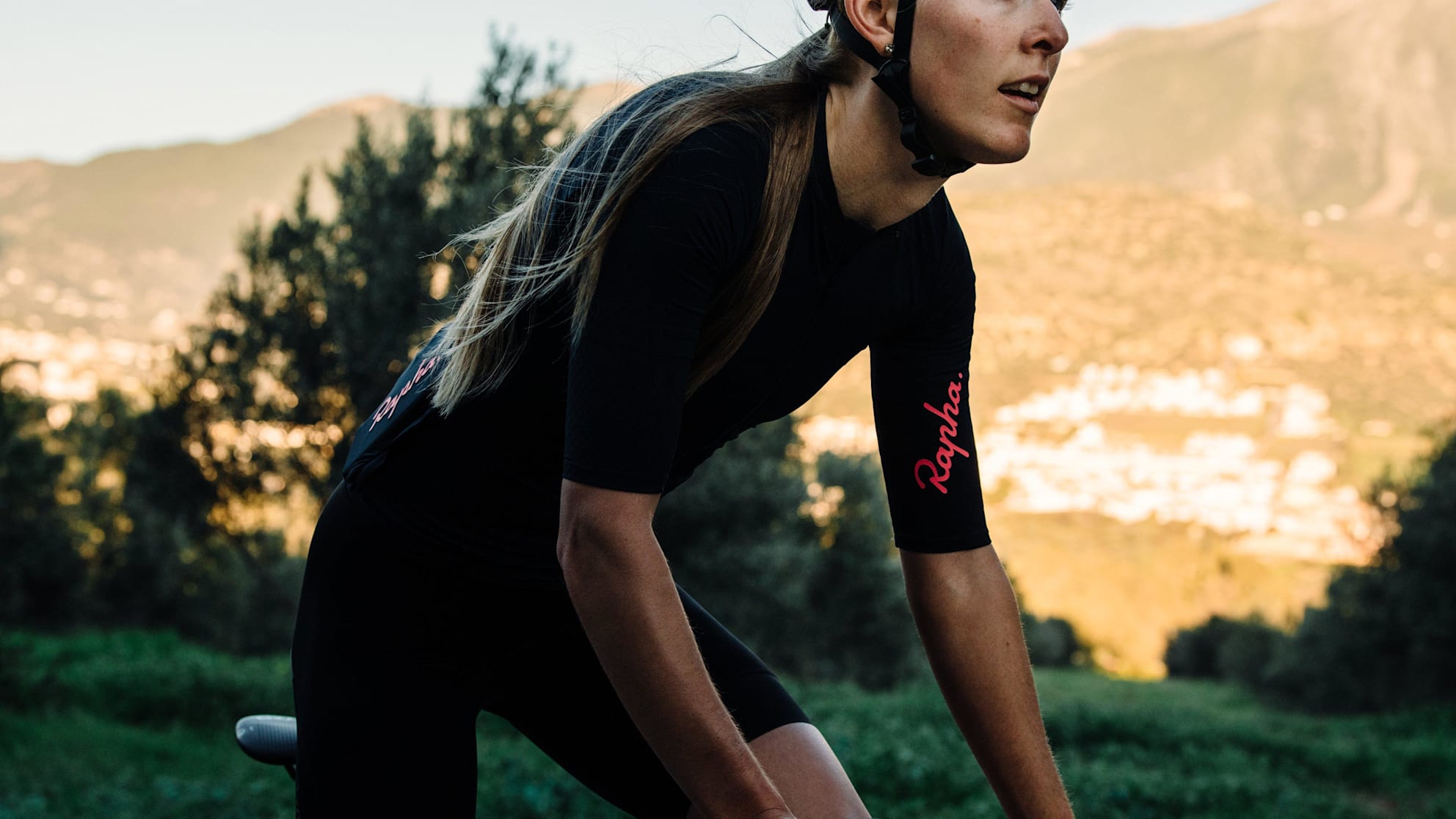 From the sole
Blank pages to Grand Tour stages
From cafe stops to cols, the world's most comfortable road shoe. A spacious toe box, snug heel and unique foot-hugging lacing system lets you pedal on unperturbed. The carbon sole is protected too, so don't be deterred from dirt detours by thoughts of saving your sole.

There is no limit to adventure on the bike for those with the right shoes. Whether you're pushing the limits of endurance miles away from home or the limits of traction while scrambling and skidding around local trails, the Explore Shoe's light and stiff with a sole that incorporates a grippy natural rubber tread with high-performance carbon and flex in just the right spot.

Rapha's new range of shoes, launching soon, are the result of years of R&D. We have continuously refined the fit as well as the design, from the early prototypes pictured above to the finished article soon to be revealed.
RCC x Paul Smith
Made for members.
Paul Smith and Rapha go way back. In 2004, Simon Mottram's inspirations were An Intimate Portrait of the Tour De France by Philippe Brunel (reprinted as Kings of Pain) and the work of the British fashion designer. We'll celebrate cycling's Sir Paul with a collection that came about in answer to the question: If Paul Smith sponsored a cycling team in the 1960s, what would it look like?
The lay of the land
A special design for a gilet that's become a fast favourite.
The Brevet Insulated Gilet was the first product of its kind, designed to ward off the cold on races spanning vast continents and even larger temperature ranges. This special edition celebrates the spirit of adventure fostered by these races, pairing the tried and tested Polartec insulation with a stitched pattern inspired by the contour lines of famous climbs. One for those who plot their own adventures.
Are you sitting comfortably?
WorldTour winners and complete beginners helped make our best ever women's bibs.
Not satisfied with producing the single most comfortable women's cycling short, our design team have swept the podium places with a completely revamped selection. Each of our trio of new bibs incorporates a new collection-specific chamois pad as well as a raft of design innovations, from the revolutionary pocket arrangement on our Cargo Bib Shorts to self-centering magnetic clasp for subtle toilet stops while wearing the Souplesse Race Bibs.
Carry more in Core
Whoever you are, wherever you ride, there's a change to be made.
They might have been labelled ridiculous but they're quickly becoming ubiquitous. Pockets on bib shorts are here to stay. This season, they feature in the revamped Core collection for the first time. Wherever you're riding, the Core Cargo Bib Shorts allow you to take more of the essentials you need on a ride so you're ready for the moments that make the adventure worthwhile.
Meet the Cheetah
A collection in honour of US champion and Olympic medallist, Nelson Vails.
Watch Nelson Vails racing the '84 LA Olympics and you'll soon get the nickname. Vails' predatory power – bred in the concrete jungle as a messenger, where he never failed to deliver – saw him scoop silver, resplendent in red, white and blue. A true reminder of the strength of cycling's subcultures.
Easy to shoulder
At once tough and thoughtful, a bag designed to conquer the commute.
The new Commuter Backpack is made with tough fabrics to withstand the commute, incorporating intelligent design for cyclists. A semi-rigid, entirely reflective base keeps you seen on the road and helps the bag to stand on its own, and a neat retracting buckle offers clean, fuss-free closure.
Making a mark
Relaxed casual wear for smart layering and year-round comfort.
We've become known for producing the world's best cycling kit, but comfort off the bike is just as important. The Logo collection's super soft sweatshirts and thick cotton t-shirts will make you feel relaxed from the moment you pull them on and incorporate chain stitched logos and hidden design features that nod to cycling's sartorial tradition.
Take it from the top
After ruffling some feathers in the pro peloton, the bucket hat is back.
There have been several ill-fated alternatives to the classic cycling cap over the years but baseball caps and woolly hats have no place in cycling. Bucket hats, however, were a huge hit at the recent Tour Down Under. We're aware that they have already been revealed to the world, we just thought we'd reassure fans of the EF team, and their hats, that the bucket hat will be available again soon.