Sorry, we couldn't find any results for your search.
Introducing The Yomp Rally
The concept is simple: complete the course in five days or fewer at your own pace, on your own or with your friends. Rapha provides the route, a celebratory send off, one checkpoint, a bag transfer and a warm welcome when you arrive in Los Angeles. The rest is up to you.
31 January 2023
May 5-9, 2023

100 Riders

375 Miles, Santa Barbara to Los Angeles

The Yomp Rally is an ultra-endurance ride without the red tape. The Rally embodies what we love most about adventure riding: a DIY spirit, a love of the outdoors, and a willingness to ride into the unknown.

The concept is simple: complete the course in five days or fewer at your own pace, on your own or with your friends. Rapha provides the route, a celebratory send off, one checkpoint, a bag transfer and a warm welcome when you arrive in Los Angeles. The rest is up to you.

*Applications are now closed, accepted riders will be notified on March 3rd.*
WHAT TO EXPECT
375 miles of self-supported, incredible mixed terrain riding throughout Southern California. Rapha athlete and trail steward Dillon Oslenger designed a route that spans coastal desert ecology, winds through wine country, traverses the Sierra Madre, and bends through high pine forests and mountain chaparral.

It's a rally, not a race; an ultra distance event without the red tape. The format is simple, with only a few rules — ride the established course within five days, treat the land and its inhabitants with care and respect, take care of yourself and other riders, and leave no trace. While we'll provide very little support, it's not technically "self-supported." We encourage riders to help eachother out, share a bag of chips or Swedish fish, accept the magic of kindness from a local, ride with your friends, and generally do what you want to ensure you have the most enjoyable experience possible.

The way you take on the ride is up to you. Ride solo through the night, with a group of friends or somewhere in between. To finish on time you must average at least 75 miles + 8,000ft of climbing per day.
 
- Pre-Party: May 4th with Dillon Oslenger
- Grand Depart: May 5th
- Arrival Party: May 9th at Rapha Los Angeles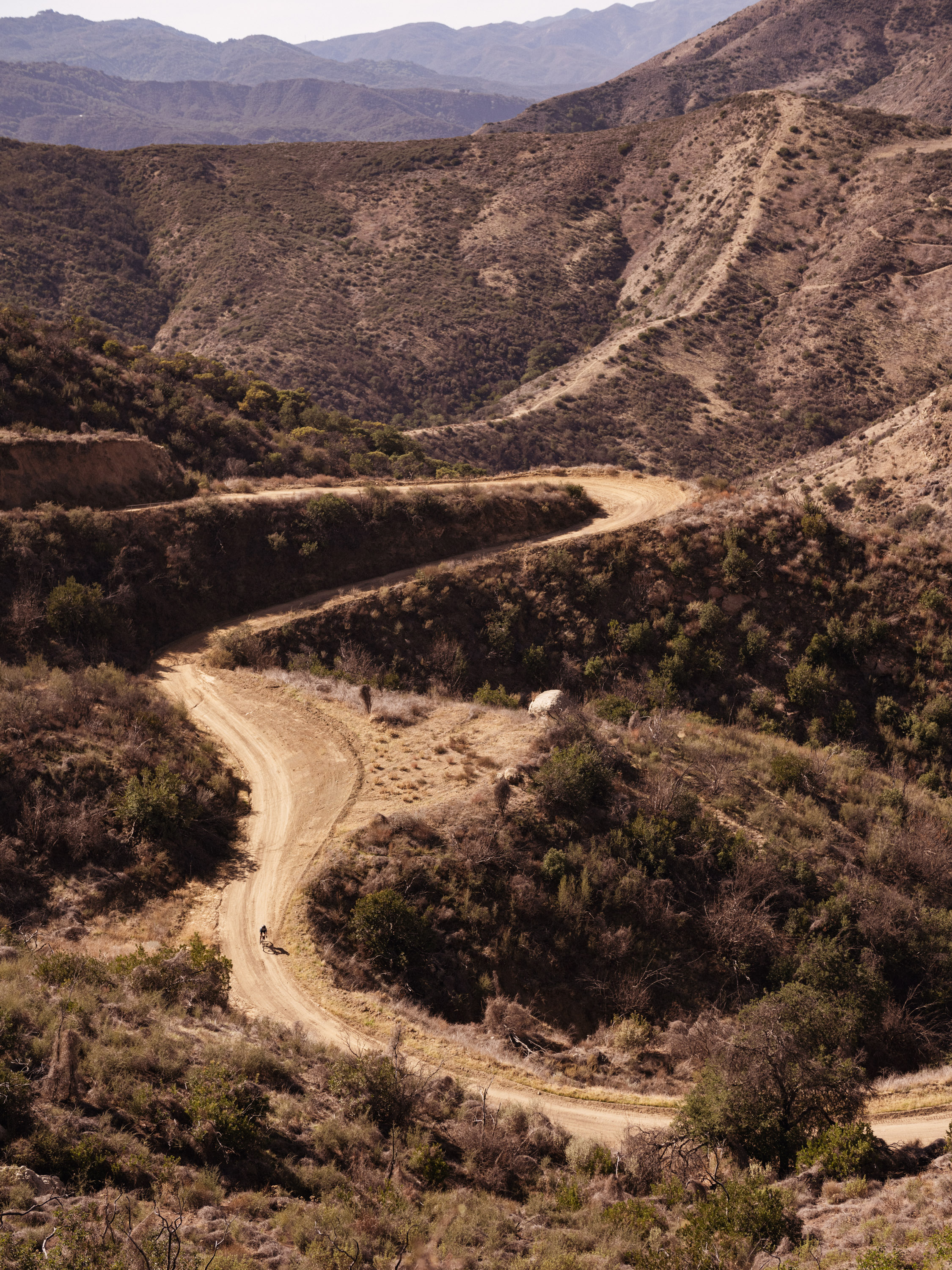 "The route you will have traveled is not new. It is a reverse of the path the Spanish Padres took in 1769 to create the California Missions, which could have been noticed all along in Santa Monica, Santa Barbara, Santa Ynez, New Cuyama, and Santa Paula. The ecosystems you traversed - desert & coastal sage, high pine forests, and mountain chaparral can all be seen in the construction material of Chumash baskets and Catholic Churches across the central coast. Every inch of land once belonged to the Chumash Indians, and their influence is still felt in supporting many of the projects that steward these roads and trails. Sooner or later, everything old is new again."
- Dillion Osleger, route builder of the Yomp Rally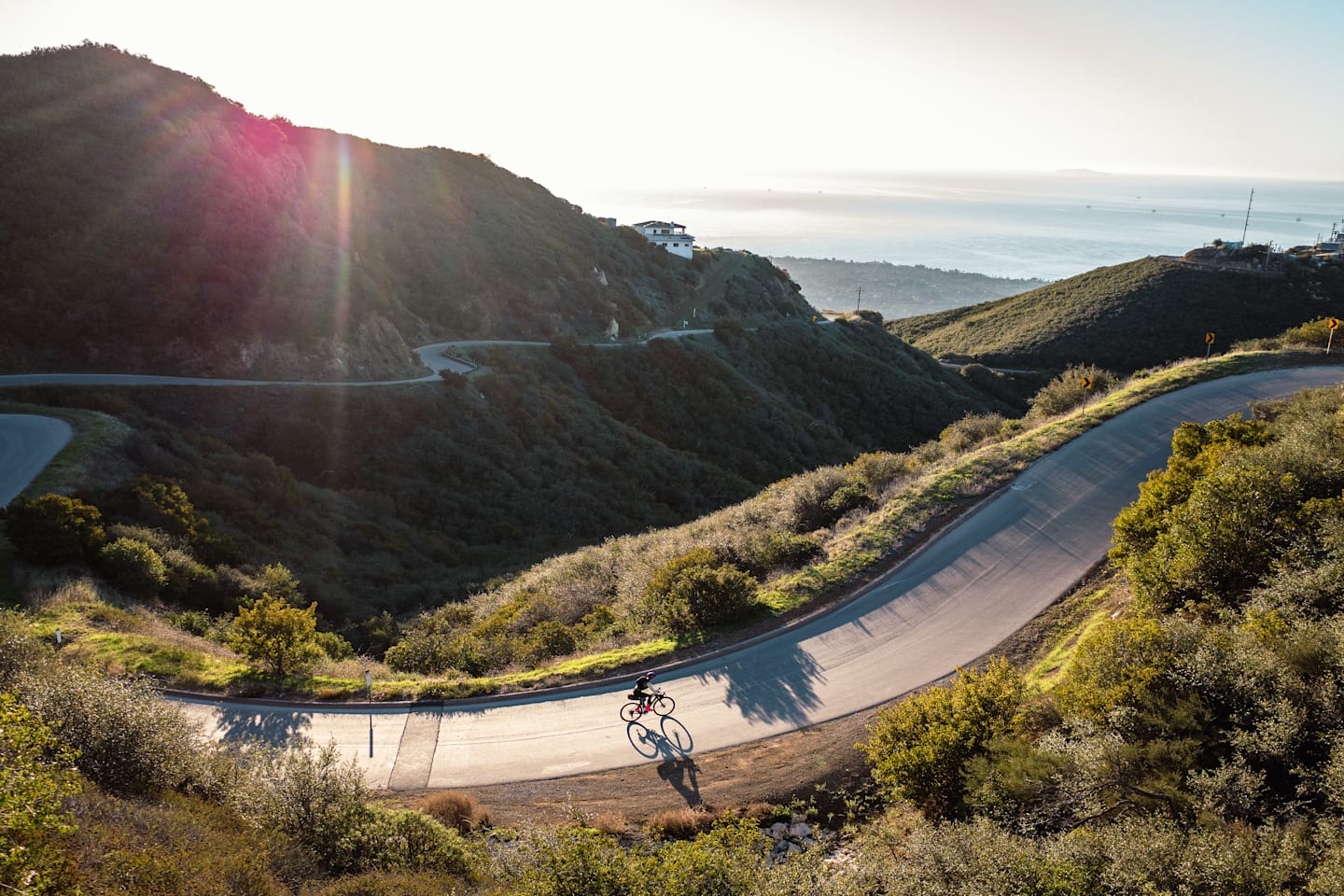 The Yomp Rally is designed without many rules in mind, but there are a few signposts riders must follow:
- Complete the established route within five days.

- Treat the land and all its inhabitants with respect.

- Take care of yourself and other riders.

- Leave no trace. Pack in and pack out.

- Don't camp on private property.

- Embody the Yomp Rally ethos: ride with your friends or alone, hop on a wheel, share your snacks, help someone with a broken spoke, ride for each other.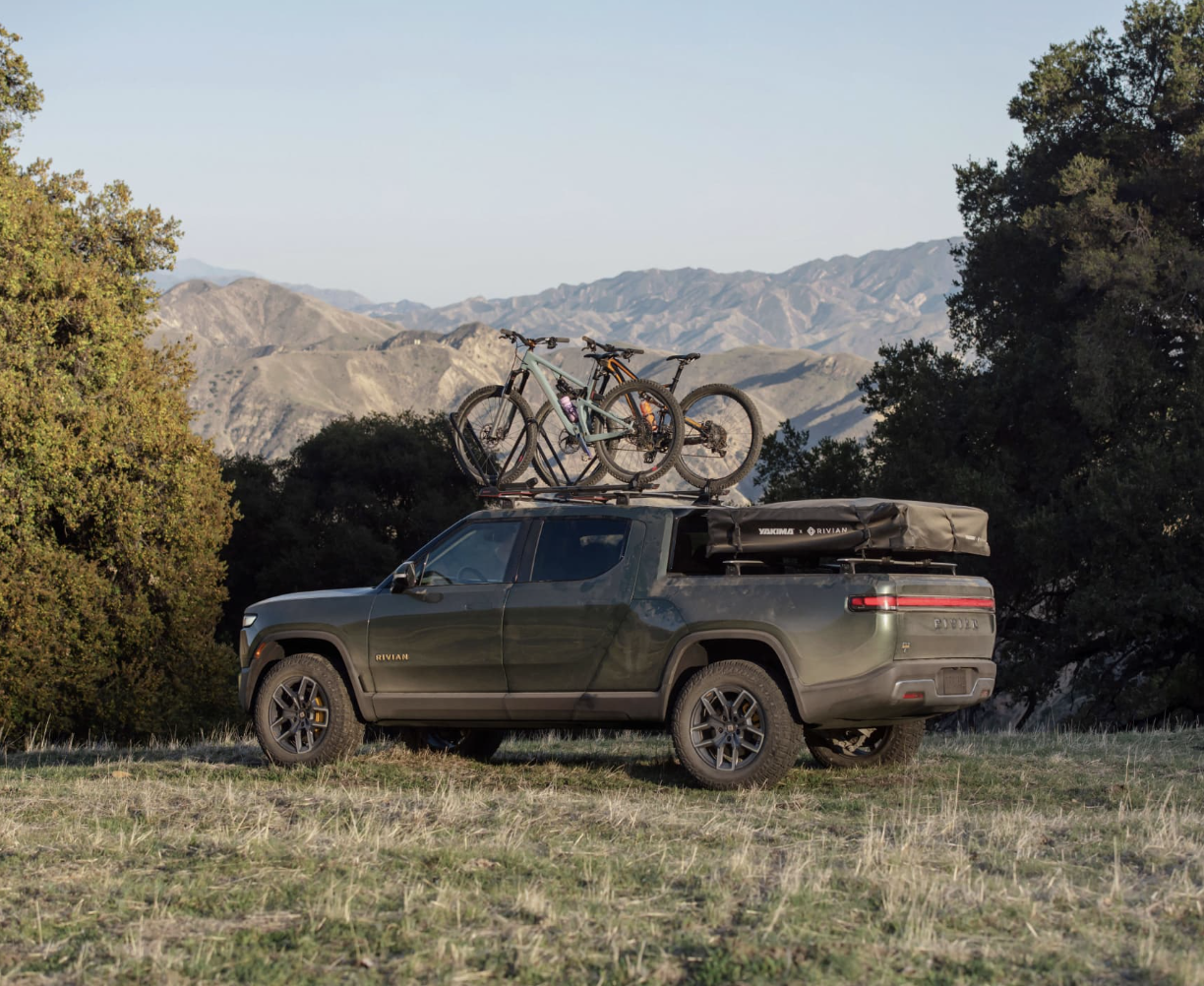 Rivian is the official off-road adventure partner for Rapha's Yomp Rally with Rivian's all-electric adventure vehicles supporting riders no matter the terrain and moving the Rapha team around the course with minimal environmental impact.

Yomp Rally FAQ's
Is there a fee to ride the Yomp Rally?
Riders will be responsible for covering their tracking fees with FollowMyChallenge which total $70 USD in order to participate.
How can I participate in the Yomp Rally? Can I still apply?
Riders needed to apply for entry to the Rapha Yomp Rally. Applications are closed and all accepted riders will be notified on March 3rd.
My friend wants to ride with me, do we apply to ride together?
All riders must apply to the event individually, however, we encourage folks to ride together. If you plan to ride with others, make sure everyone in your group has completed an application, and be sure to let us know in the application who else is in your planned riding group when asked.
What support will Rapha provide?
The Yomp Rally is an unsupported adventure ride. You will be expected to provide for yourself and plan your own ride. This includes arranging how and where you sleep, when and where you eat as well as how to get out of trouble should you fall into it. Rapha will not provide a sweep vehicle, so be ready with a contingency plan should you need to abandon your ride. Parts of this route are remote, so study the route thoroughly and carefully consider what you need to complete the ride within the allotted time.
Rapha will provide all confirmed riders with a GPS tracker, a bag transfer service large enough to accommodate one bike travel case or large duffel per rider, and a warm welcome at the finishers' party at Rapha Los Angeles on May 9. 
What bike should I bring?
There's no 'perfect bike' for this kind of ride. Different bikes will excel on different sections, but this route is designed with gravel bikes in mind. Gravel is many things to many people, but in this case, we mean drop bar bikes with wide clearance and disc brakes. Here's what we recommend to get the most out of it:
- We recommend 40c tires minimum. It's going to get tricky out there and the more traction the better, especially when fully loaded.
- 60% of this route is on-road. We recommend something which isn't too soul-destroying when you need to make the miles up quickly. A file tread, wide slick, or small knob tire will do the trick.
- We recommend disc brakes because you will need stopping power when loaded on gravel descents, although you're more than welcome to prove us wrong.
- Small gears for one's comfort and sanity. A 1:1 gear ratio, such as a 42t front chainring and 42t cog as your lowest gear, is a good place to start. Many of the climbs are steep, and when carrying your full weekend's kit, the pedaling gets slow. Small gears will help you enjoy the ride that much more.
- A hardtail mountain bike with lower profile tires will make a fantastic alternative and arguably offers appreciated comfort on a few of the off-road descents. Just don't worry about your speed on the road climbs, and enjoy the added speed you'll have on the way down.
With these points in mind, the main factor is your own comfort and familiarity. You should run whichever bike you feel most comfortable on for five days of hard riding and sections of technical terrain. Have it be known; there are one or two technical descents that may result in a small amount of walking for some riding gravel bikes!
Is food or water provided on course?
You are responsible for carrying and sourcing your food and hydration. We have made note of refuel points along the route, but when and where you stop is up to you. While there are many options in the first and final third of the course, there is a beautiful 165 mile stretch through the Los Padres National Forest that lacks services. We recommend bringing a water filter to ensure you never run low and packing extra food for this stretch from Los Olivos to Ojai. We will be dropping water at two points through the most remote section to ensure it's not an issue for riders, but be prepared to filter more as needed. Aside from that section of the route, services are plenty and often.
Is the full course covered by cell service?
While cell service covers much of the route, there are large gaps, particularly on the Sierra Madre between highway 166 to Ojai. Before and after, you'll only have brief disruptions to cell coverage. If you feel uncomfortable with the lack of cell coverage, a satellite communication device such as a Garmin In-reach is a great option. You can also check your provider's coverage map against the route to see where you may experience service gaps. 
Where should I sleep? Can Rapha help me with my accommodation plans?
You are responsible for when and where you sleep. While we have noted campsites and lodging options along the route, Rapha will not coordinate any rider accommodations. Do not camp on private property. 
Do I have to follow the exact route?
The route we've developed is beautiful, so we hope you'll follow it. If you need to bail, we've suggested a few vetted shortcuts on the route. 
Where does the route begin and end? 
The ride will depart May 5 at 7 a.m. from Handlebar Coffee at 2720 De La Vina St, Santa Barbara, CA 93105. The route ends at Rapha Los Angeles at 1347 4th St, Santa Monica, CA. Riders must finish by 8 p.m. Tuesday, May 9.
Can I start early? Can I start late? 
The Yomp Rally is designed to be a collective celebration of adventure riding. The only moment we'll all be together is at the send off, so we ask all participants to begin the adventure together. 
How long will the ride take?
It's up to you. You can race the course, or take it easy and enjoy the adventure. All riders should plan to complete their ride by 8:00 p.m. on May 9th. 
Can my friends and family come to the finishing party?
Yes!
I can no longer attend. Can I transfer my tracker to someone else? 
If you can no longer attend, please contact usa@rapha.cc to release space in the event.